Dinner at la Tenda Rossa, a gourmet restaurant near Florence, Italy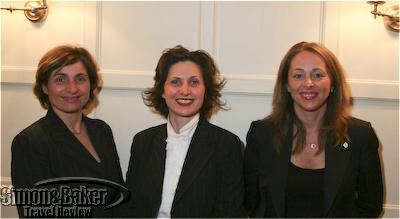 As we endured a 30-minute cab ride along a curvy hilly road to a small town near Florence, Italy I wondered silently where we would spend the night. While the taxi driver happily discussed the area, politics, his family and just about every topic under the Italian sun, my stomach lurched and I yearned to stop moving. We had left the dry comfort (it had been raining all day) of our boutique hotel in the heart of Florence, with a high priced gourmet restaurant in the lobby, to explore the lesser known Ristoranti La Tenda Rossa, a family restaurant, believing it was only a 15-minute drive away. As we arrived in Cerbaia in Val di Pesa, the town where the restaurant was located, I was certain I would be unable to dine and be incapable of enduring a return drive to our hotel in Florence that night.
The artwork featured relaxing images of the female form
Inside the restaurant we were greeted courteously and seated immediately.  One couple had already been seated across from our table; otherwise the restaurant, which would be full before long, was still quiet. The decor emphasized muted light, beige walls, wood floors, and quiet surroundings with pleasing artwork and sculptures. Soon I was tasting the crispy Tuscan bread (citrus, milk, croissant, cereal and olive choices) with local extra virgin olive oil. Surprisingly, in addition to the wine options, there were four types of still water and four types of sparkling water to choose from.
I eyed the French foie gras appetizers and Giorgio Grai Spumante Metodo Classico bubbly cautiously while we ordered with relative ease thanks to two of the staff's English language skills (one of them translated the Italian menu for us). It helped that we were having the tasting menu with wine paring so there were no difficult decisions to be made.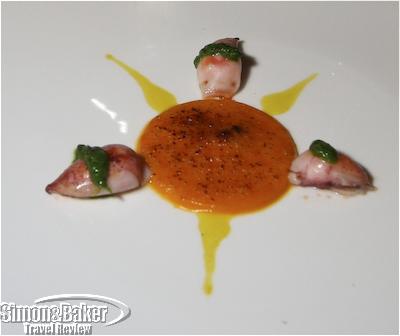 The bread was attractive and tasty
The restaurant was lovingly run and the food was prepared by a bevy of ladies. Evidence of the care they took were the decorative touches including well lit sculptures of women by the same artist, a friend of the family, placed around the restaurant, lovely silverware with even a small spoon for the creme brulee dish and a silver toothpick with the restaurant's initials. The service was outstanding and the staff that looked after us were attentive and polite. We were pleased when our unfinished bread bowl was replaced with a new one filled with warm bread.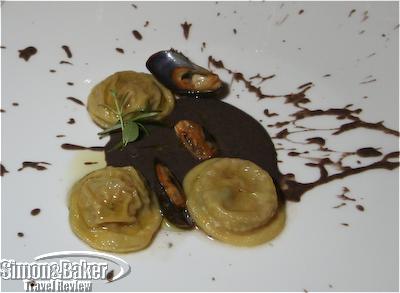 Ravioli with Tuscan Vegetables
We had a seven course tasting dinner with wine pairings. First we were served a dish of bite sized appetizers, Variazioni di fegato grasso d'oca con pan-dolce: crema bruciata aromatizzato al caffé, Lollipop di fragole e pepe rosa, Club sandwich and Cornetto gelato served with warm brioche. There was a tiny squid stuffed with lobster and pumpkin "Sole" di piccoli calamari ripieni all'astice e crema bruciata di zucca gialla aromatizzata alla radice di zenzero; then we had ravioli stuffed with Tuscan vegetables, beans and olive oil (first pressing blend Tuscan and Sicilian olive oil) Ravioli di ribollita in emulsione di fagioli neri e olio Gemini, con cozze pelose tarantine; there was ricotta with a brown licorice, tomatoes and bitter dark chocolate Fiocco di ricotta in salsa bruna alla liquirizia, con pomodorini confit e bastoncino di cacao amaro; perfectly cooked lamb from the Apenino served with lamb sausage made from lamb liver and heart Agnello dell'Appeninnino in salsiccia di magro e pecorino stagionato costoletta a scotadito con sedano rapa e salsa de frattaglie; a cinnamon caramel iced palate cleanser Cannucia di gelato all a cannella; and dessert was a gelatin with nut cream filling, nut balls, pumpkin and Italian biscuits Cubi gelatina di Vinsanto farcita alla crema di nocciole zucca gialla candita cioccolato bianco e spumone di cantucci.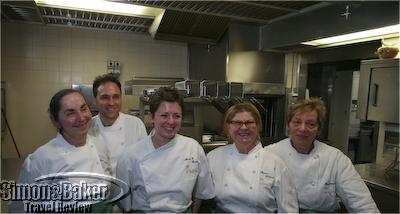 Paola Salcuni, Cristian Santandrea, Maria Probst, Maria Salcuni and Fernanda Salcuni were the stars in the kitchen
The wines were Riesling Auslese Kerpen 2001 Heribet Kerpen with a slight gasoline nose to counter the strong flavors of the liver dish, 2004 Pinot Bianco Russz Superiore, 2007 Marina Cvetic Masciarelli, a deep 1995 Brunello di Montalcino Fuligni and at the end Brown Label 2006 Reserve Grappa I Balzini.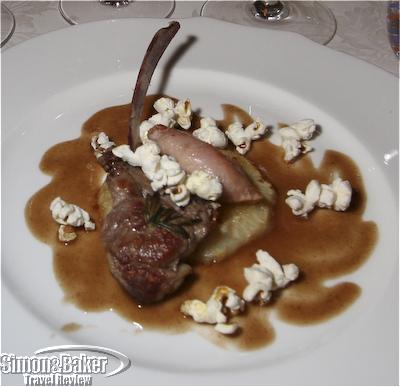 Lamb with lamb sausage and popcorn
We liked the combination of subtle yet distinctive flavors at la Tenda Rossa, pretty dish presentation including unexpected touches like "lollipops," "sandwiches," and popcorn, the small quantity of wine served with each dish of the tasting menu which was enough to go with the dish without leftover wine or the feeling of having to drink it to avoid wasting it, the warm, relaxed ambiance and friendly staff. Thankfully our tasting menu dinner was a foodie pleasure and the drive back courtesy of the restaurant car driven by Sylvano was significantly more pleasant thanks in part to the luxury sedan we rode in and the highway roads the driver chose for our return.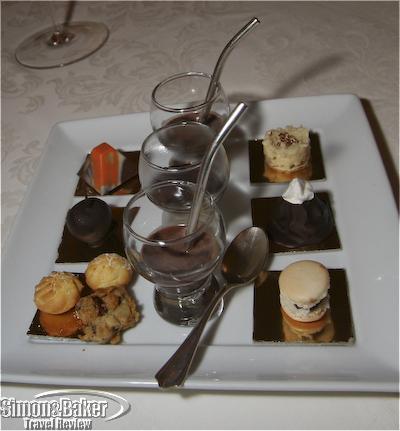 Dessert at la Tenda Rossa
We would gladly return for dinner anytime we are in Florence although although next time I will request a hotel car. We will recommend this lovely restaurant to friends and colleagues heading to Florence who have the time and inclination to have dinner beyond the city limits. It was worth the drive. Ristorante la Tenda Rossa, Piazza del Monumento 9/14, 50020 Cerbaia in Val di Pesa, Telephone +30 055 826132, www.latendarossa.it, ristoranti@latendarossa.it
Articolo scritto sul Luxury Travel Review : Link