5 ITALIAN RESTAURANTS WITH IMPRESSIVE WINE CELLARS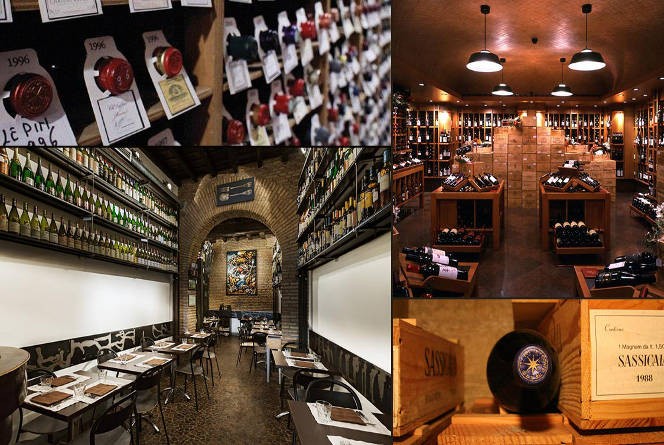 Scritto da CHIARA GIOVONI – link all'articolo
5 ITALIAN RESTAURANTS WITH IMPRESSIVE WINE CELLARS
You are fanatical about wine, you have collectible bottles that you keep as relics in the cellar which you uncork with friends, but then when you go out for dinner, panic ensues. Here is the solution: the 5 restaurants to eat well and above all, to drink well.
#WINE AND COCKTAIL
As a starting point, in a restaurant nowadays it is not sufficient to just have an important chef, a unique cuisine on offer, or a high level of quality in order to be considered "excellent", because both restaurant and wine cellar service are key elements for achieving the highest scores in the guidebooks. For this, in a selection of the 5 restaurants with the best cellars in Italy, we have told the story of just one of the restaurants with 3 Michelin stars, because it has made history when it comes to prestige Italian restaurants as we understand it today, and also perhaps because its cellar is still unrivalled. The other restaurants with three or even two Michelin stars, while having very interesting cellars at their disposal, have been deliberately excluded from the selection become were they to be included, drafting a top 5 would be an impossible task.
We have therefore chosen to reward other restaurants, where it is not just the chef who plays a leading role, because the cellar is of fundamental importance, to the extent that it almost steals the show. These are the places where a true wine-lover could have dinner every night without fear of boredom, given the number of prestigious labels and important vintages, which are able to meet the most disparate desires of the most demanding wine lover.
ENOTECA PINCHIORRI – FLORENCE
AL PECK – MILAN
CARAVANSERRAGLIO – RAGUSA
ROSCIOLI – ROMA
LA TENDA ROSSA – CERBAIA
In full Chianti Classico country, among hills of vineyards and wooded slopes, 6there is Cerbaia in Val di Pesa, where a big family is ready to welcome you to a highly-elegant restaurant that have defined the history of Tuscan food.
The excellent food is just one of the components of high-quality hospitality of this gourmand's paradise, which in combination of the Santandrea and Salcuni households has today been updated and modernised with the refined cuisine of chef Maria Probst.
The dining room and especially the wine cellar is taken care of by Natascia Santandrea, who not only has a visceral love for wine, but has also followed in the footsteps of her father Silvano, who over the years collected and curated an impressive treasure trove of wines, with a dream list for true connoisseurs and a range of extraordinary vintages.
Alongside milestones of global wine – but especially from Bordaux, Burgundy, Tuscany and Piedmont – the wine list for La Tenda Rossa restaurant contains an embarrassment of riches for those who love to experiment and discover the best that wine can offer.