MAKE YOUR LAST SUPPER AN AL FRESCO AFFAIR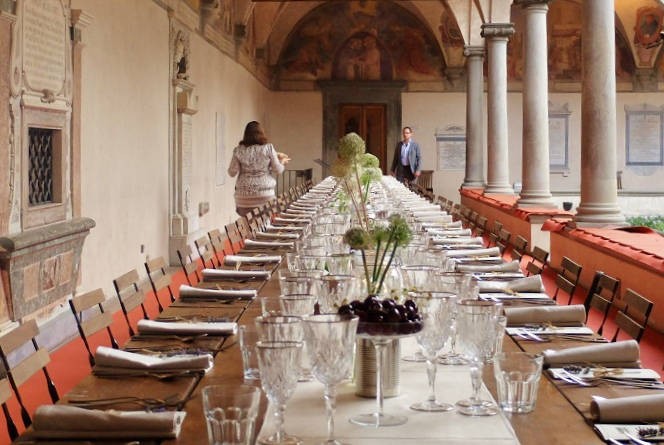 Scritto da GEORGETTE GIRLINFLORENCE – link all'articolo
If Leonardo da Vinci was alive today, I have no doubt that he would have been more than keen to attend one of the coolest dinner ideas in Florentine history. A series of exclusive, 'al fresco' dinners taking place in refectories in Florence where 'last supper' frescoes have been painted. These fun events are organized in conjunction with the 'feeding the planet' food theme by the EXPO in Milan, which is currently on until late October. And no, I haven't been yet.
And to be quite frank, getting to pick up your fork and knife in a place where 500 years before, friars have done their daily errands, is a history and foodie buffs dream. For me, it was probably one of the most incredible evenings I have ever had the pleasure to take a part of and probably ever will. Definitely a heck of a lot different from my local 'Taco Cabana' on a rural road from my high school in San Antonio, Texas.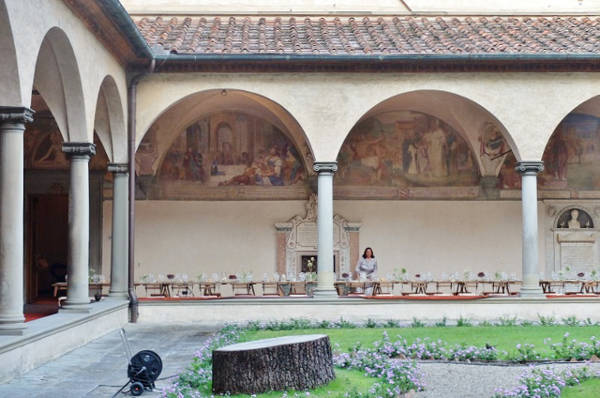 The concept is simple, and decidedly brilliant. They have decided to mix some of the best chefs in Tuscany, using vegetables grown from the podere delle cascine for a few dinner parties in some of the best locations in Florence, called 'Orti e Cenacoli'. The connection to the Expo Milan is a smart one. In their words 'The objective is to promote the extraordinary beauty of the city's monumental refectories and an idea of simplicitas inspired by the recipe collections of the monastic orders, to return to the essential in food and to rediscover its profound symbolic value. "
Together with PromoFirenze, a special agency of the Chamber of Commerce in Florence and Grassi + Partners, they have created these special dinners in a way to celebrate food sustainability and art, like using the vegetables from a local, urban garden run by the Florence Agricultural Institution, along with guided visits of each location. Just picture veggies cultivated by local students in the Italian version of FFA (future farmers of America – so Texas!) into the hands of Michelin-starred chefs. I love the fact that they tied in the 'Last Supper' frescoes as a way to intermingle the history bit, I cannot imagine better places to enjoy an outside 'al fresco' dinner in the summer evenings. Seriously, this was awesome.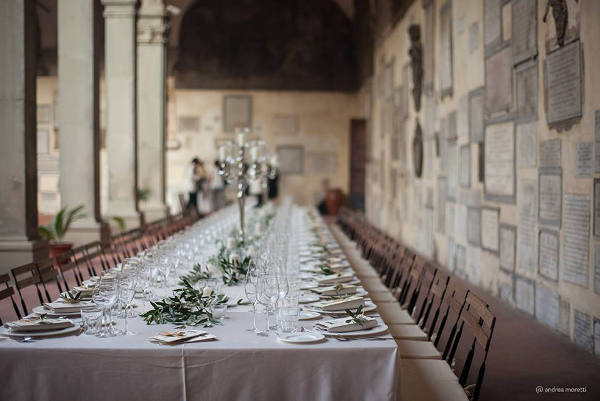 Needless to say, this is one invite you are definitely not going to turn down. Also it was a great chance to see my beloved San Marco Museum (where the event I attended was held) in the 'off' hours. It was the perfect occasion to don a dress and get an art history education in one of my favorite museums in the city, and one that many people unfortunately miss. My photo below is quite sub-par, but it depicts the famous fresco by Italian great Ghirlandaio showcasing a 'last supper' in the ex-guest quarters of San Marco. This was where important guests were taken, instead of the larger refectory where the friars typically ate, to the tune of one monk reciting from the bible in a special elevated area. Because Beyonce wasn't invented yet.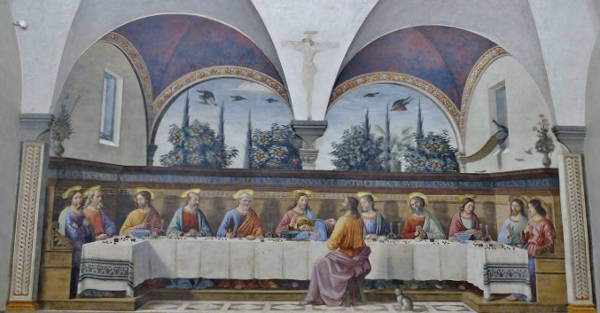 The chefs working their magic that evening were the lovely Maria Probst and Cristian Santandrea who run the famous La Tenda Rossa in Cerbaia in Val di Pesa, Tuscany, a 35 minute drive from Florence. It is always surprising to me just how many awesome restaurants in Tuscany I don't know about. And honestly, I hope I am always surprised and delighted at the variety of fabulous food in this country, we all need something to wish for after all.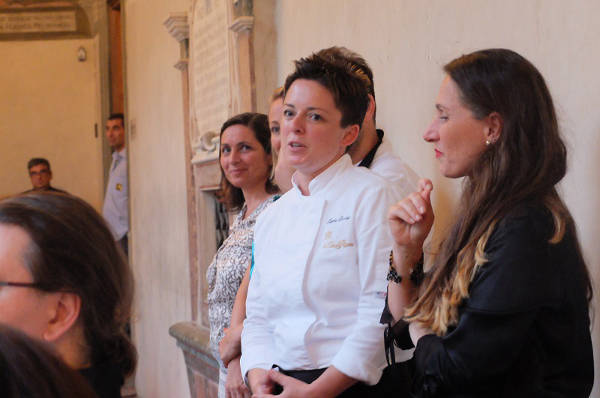 We got there around 7:30, early by Italian dinner standards, but instead were treated to a lovely aperitif with a nice bitter cocktail and these beautiful savory macaroons made with butter and anchovies. They actually looked like the traditional desserts from the outside, but instead you bite into a piece of anchovy heaven. I tried to sneak a few in my purse but this was far too classy of an event to stoop to those levels ( I did think about it though).
I should mention that when I started in on the appetizers, Maria shyly asked what I thought about the savory macaroons. As if someone as talented as herself, could really care, considering I just love food and am in no way, shape or form a critic. Interesting enough, I even noticed that also participating in this dinner series was Chef Filippo Saporito, whose restaurant La Leggenda dei Frati, is one of the best places in town (in the Villa Bardini garden complex), offering a good-priced lunch menu.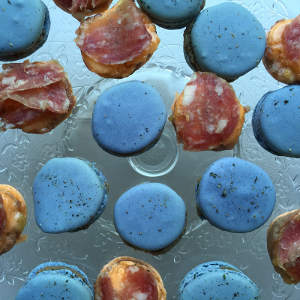 This is also when the guided tours, which are included in the dinner, were offered. My friend Alexandra and I decided to go it alone. It is pretty convenient to have an art history expert as a good friend, and she generously took me around San Marco to explain details in the frescoes that I didn't know before. Like why which works were featured in each of the friar's cells and what was meant to say in each depiction.
Alexandra explained that many of these works of art were used as visual guides for the friars, suggesting silence or encouragement of a religious fortitude, which definitely made me peer a little closer. Also I've only ever been here during the day and at night, it takes on an almost magical atmosphere. When you think all that these walls have seen it can be a bit overwhelming, such as the rise and fall of infamous friar Girolamo Savonarola, who was burned in piazza della signoria, where you can see a plaque dedicated to the event even today. Whose cell by the way is the biggest of them all, he has what I would like to refer to as a 'Dominican Duplex' complete with am interesting hair shirt, which is as disturbing an item as it sounds.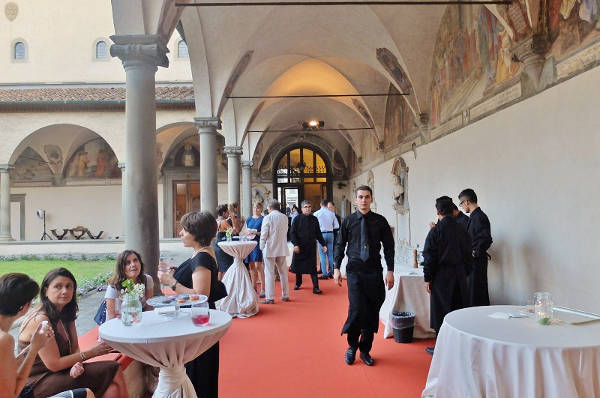 When I got to glance at the actual table where we were to eat, I almost swooned. In the 'Last Supper' style, there was a long wooden table, covered in a white tablecloth and outfitted in simple vintage glassware, with poignant touches like a bowl of cherries and sliced bread at the head of the table. Actually the table setting was my idea of perfection, simple but utterly beautiful, there were even 'lightning bug' lights in jars that brought me back to hot summers in Texas. Clearly they thought this one out. We were joined by my friends Coral and Nardia, we all felt a bit like Cinderella that night, except without the heels and probably a lot more wine.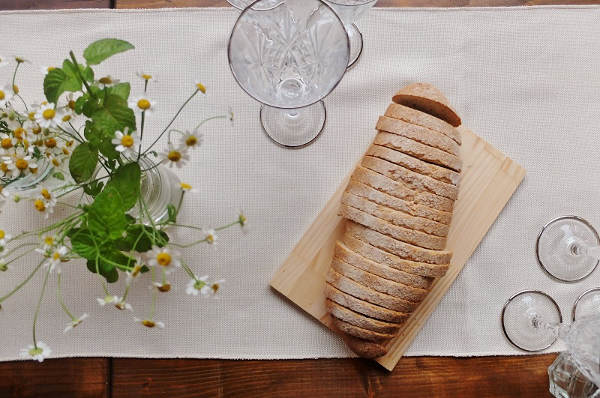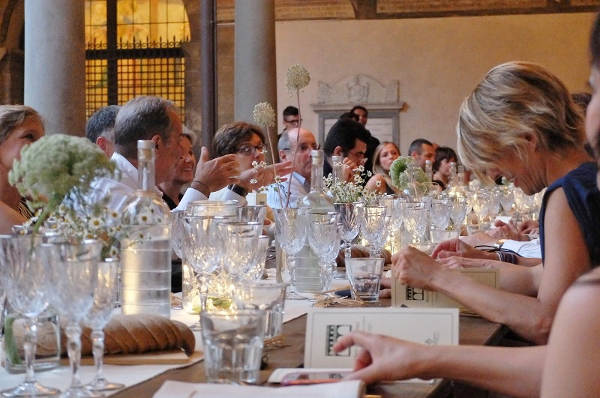 Dinner was a medley of creative, contemporary dishes — as you would expect from chefs of this caliber. While unfortunately I had so much fun, I actually lost the dinner menu, I did however manage to create this collage from a few of the dishes we dined on. Which included a fresh summer soup puree featuring seasonal vegetables picked from students, a lovely tortelli dish with a rabbit ragu and a dessert of the gods. The most perfect watermelon gelato with flecks of sweet, dark chocolate. Dear sweet Jesus, well I probably shouldn't say that in a former convent.